The Honda Magna was a cruiser motorcycle made from 1982 to 1988 and 1994 to 2003 and powered by Honda's V4 engine taken from the VF/VFR. The engine technology and layout was a descendant of Honda's racing V4 machines, such as the NS750 and NR750. The introduction of this engine on the Magna and the Sabre in 1982 was milestone in the evolution of motorcycles that would culminate in 1983 with the introduction of the Interceptor V-4.[1] The V45's performance is comparable to that of Valkyries and Honda's 1800cc V-twin cruisers. However, its mix of performance, reliability, and refinement was overshadowed by the more powerful 1,098 cc "V65" Magna in 1983.
While Honda's release of their V4 technology in the Magna (and other bikes like the Sabre and Interceptor) was certainly a bold move, it was somewhat overshadowed by at least two problems. One was the decline of motorcycle sales after the boom in the 1970s. While Honda quality was a given and the amount of features provided in these bikes was great, they were still relatively expensive bikes at the time. An expensive, complex bike wasn't an easy sell in a down market. The second was the manufacturing and engineering problems encountered after the release in 1982.
Though criticized for its long-distance comfort, and lauded mainly for its raw acceleration,[2][3] the Magna was the bike of choice for a Canada grandmother who toured the world solo by motorcycle, without benefit of the support crew that usually accompanies riders in adventures depicted in such films as Long Way Round.[4][5]
The Honda Magna of years 1982 - 1988 incorporated a number of unique features into a cruiser market dominated by V-twin engines. The V4 engine configuration provided a balance between torque for good acceleration and high horsepower. The 90 degree layout produced less primary vibration and the four cylinders provided a much smoother delivery of power than a V-twin. Good engine balance, plus short stroke and large piston diameter allowed for a high redline and potential top speed.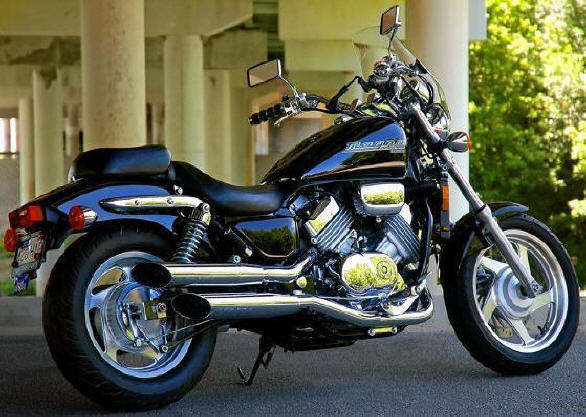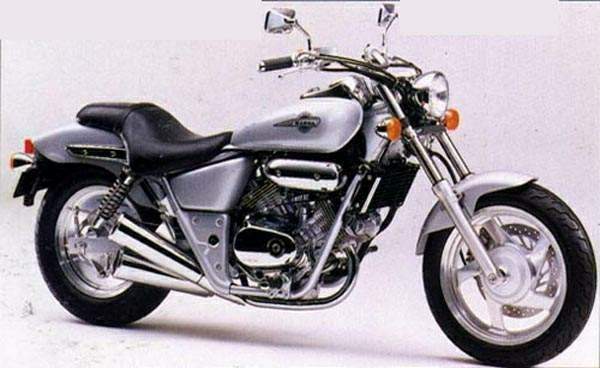 Besides the engine configuration, the bike had water cooling, a six speed transmission for good economy at highway speed, and common on other middleweight bikes for Honda in the early 1980s, shaft drive. While the shaft drive is very convenient with virtually no maintenance required (and no oil getting slung around), it also robbed some power from where it was more evidently lacking on in town or lower speed riding. Features like twin horns, hydraulic clutch, and an engine temperature gauge add nice touches to the bike. A coil sprung, oil bath, air preload front fork with anti-dive valving was an improvement, although the Magna did not benefit from the linkage based single shock that was available on later models of Sabre and Interceptor.
The V-65 Magna and other large-displacement Hondas were assembled in the Marysville Motorcycle Plant in Ohio.[3] In 2008, Honda announced plans to close the plant, their oldest in North America, in 2009, which had been still making Gold Wings and VTX cruisers