I ride a black 2007 Kawasaki Versys; which is a Kawasaki abbreviation of "Versatile System". My guess is the name is meant to imply that it is a "do anything" bike. Which I think it is, but I'm getting ahead of myself.

When I decided I wanted to buy a motorcycle (read: "my wife let me buy") I had never actually heard of the Versys before. I was literally wandering into bike stores and looking at bikes to "try on". I am not a spring chicken anymore and I wanted something I could ride in a fairly upright riding position, but I'm also not old enough to want to sit on a Goldwing, or angry and tattooed enough to get a Harley. Being 6′ 4″ tall, I also wanted something that would fit me well. When I was chatting with the salesman and mentioned these points, he asked "Have you tried the Versys yet?" I, being the intelligent, eloquent person I am said "Hunh? The what…?" I swung a leg over, and it was love at first sit.


Kawasaki Versys 650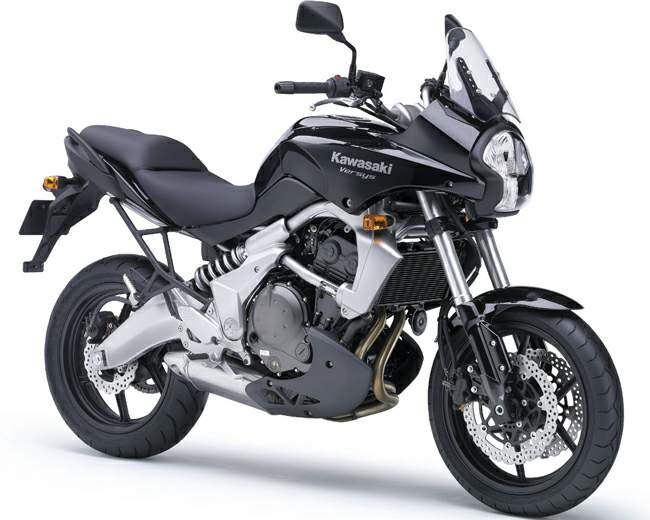 Kawasaki Versys 650
Kawasaki Versys 650At first glance a lot people find the Versys a rather ugly bike. I like it. Its unique. Its pretty hard to mistake it for anything else on the road. With the distinctive mushroom shaped headlight (which they have changed for the 2010 model) you can recognize it quite easily when its coming at you in traffic. The price tag is quite reasonable as well, I picked mine up for about $8500, including all the taxes and fees and service charges the dealer could think of.

Kawasaki Versys 650
Kawasaki Versys 650
Kawasaki Versys 650
Kawasaki Versys 650Riding it is quite a bit of fun as well. The engine is a "zippy" 650 cc from the old Ninja 600, tuned to have the torque/power in the lower rpm. It red lines at 10,000 rpm so if your feeling a little "18″ you can make it scream if you want to. It has a fairly high center of gravity so I find it goes into the corners fairly easily…….

….but lets be honest: I know just enough about bikes to realized I don't really know anything about bikes. I can't even fake "pretentious motorcycle speak". I'm not going to tell you anything that you can't read in about 50 different articles online, so I'll tell you what I have realized about my bike: the seat sucks! Though I have recently discovered that it might not be the seat as much as it might be the fact that I ride wearing jeans. I can tell you, for sure, that after about 2 1/2 hrs of riding (wearing jeans) I don't have to worry about my seat anymore, because my ass is numb! The bike vibrates, enough that trying to read the license of the guy tailgating you in the mirrors is quite a challenge, and after extended rides your hands can get a little numb. The gearing ratio is (I think) a bit off. At 4000 rpm in 6th, you're doing 90 kph. Which (in reality) is fine, but I feel like it should be a bit higher. (Note: a lot of people change the rear sprocket from 46 to 44 teeth to compensate for this, and the low end torque of the engine seems to handle it no problem.